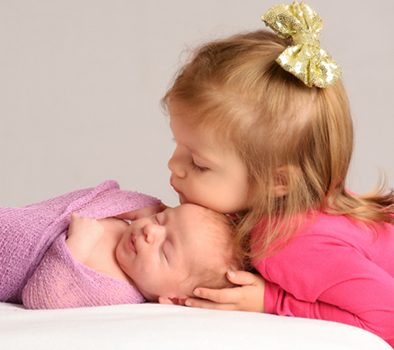 Kathy and Kevin Baker's relaxed, patient, team approach ensures your baby is photographed in a manner that is comfortable and safe while producing images that are breathtaking and timeless. They provide fine attention to detail while giving a specially tailored and personalized experience from start to finish. Child safety certified, award winning with years of experience, the Bakers will capture the fleeting details of these precious times and create memories for you to treasure for a lifetime.
2023 Newborn Photography Package $425 includes:

Planning and portrait session,
Wall portrait 16x20, framed and ready to display,
Two gift portraits, 5x7 or 8x10,
Preview set in folder (4x6 prints).
We include social media files of your ordered portraits.
We offer many other options as well as a la carte. Gift certificates are available. Call us at 315-638-0812 or email baker.photography.kathy@gmail.com and we'll discuss your portrait and get you on the calendar!
Frequently Asked Questions
What is the best age to photograph my newborn?
We like to photograph newborn sessions between five and ten days after birth. Although we can photograph newborns at any age, during this time babies sleep more soundly and curl up into those adorable, womb-like poses. That's not to say that we can't photograph your baby a bit older.
How far in advance should I schedule my newborn's session?
It's never too early! Ideally, your session should be booked during your pregnancy. We will happily reschedule if your baby arrives early or late.
What should I bring to the session? Do I need to get my own props?
We have many wraps, props, hats and clothes so you don't need to bring a thing. Your baby's session is fully styled based on your preferences. If you have a special outfit, blanket or toy, for example a special gift or a handmade blanket, we encourage you bring it along to make a picture more personal.
How long does a newborn session take?
We plan two hours for a newborn session. Posing a newborn takes time and patience. We work gently and slowly. We plan for baby's comfort, knowing that a full tummy equals a happy baby. So we allow some wiggle room in our schedule for feeding as well as those inevitable diaper changes. We ask parents to make themselves at home and we will provide snacks, drinks and comfy chairs so you can watch the portrait session (or read or take a nap!) and be relaxed and comfortable, too!
Can parents and siblings be in the pictures, too?
We encourage family to be part of the newborn's session. We usually begin our sessions with a few family poses. Your baby's comfort and safety is always our primary consideration and we keep this in mind when posing with big brother or sister. The newborn portraits will be the main focus of the session.
How do I know my baby will be comfortable and safe during the portrait session?
Our experience and expertise handling, posing and photographing even the tiniest babies can give you peace of mind that your child is in the best hands. Our studio is kept warm to keep baby comfortable. All wraps, props and blankets are freshly cleaned before they touch your baby. Kathy maintains her Child Safety Certification. Our team approach assures that your baby is never outside arms' reach. We will never put a child in a pose that is dangerous or harmful. Some of our portraits you will see are digital composites. We take the safety of your child very seriously!
Do you do in-home sessions?
In order to achieved the consistent results you see in our work, all newborn sessions are held in our studio. Everything is fully prepared, warmed and cleaned. Our studio is fully equipped with everything we will need at our fingertips.
How long do I have to wait to view and receive my prints and products?
Within one week of your portrait session we'll have you return to the studio to view your portraits. We'll help you design your wall art and show you samples appropriate for your needs. Prints, wall art and announcements take about three weeks after order date. Albums take about four weeks.
Do you sell digital files?
We are happy to include low-resolution social media files of the prints ordered at no charge. We have a number of ways you can display your baby's finished portrait- from wall art, canvas and albums to jewelry and gift items for your family and yourself. Because we care about giving you the best possible service from start to finish as well as the quality of the heirloom product you will cherish for a lifetime, we do not offer digital files to be printed.
How do I book my newborn session with you?
Easy! Just call us at 315-638-0812 or email baker.photography.kathy@gmail.com and we'll discuss your portrait and get you on the calendar!